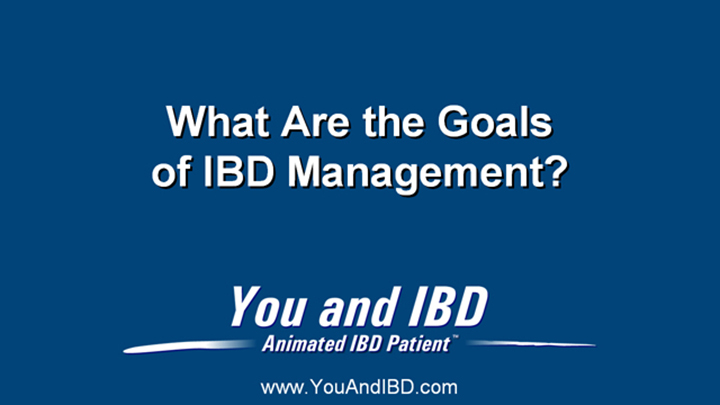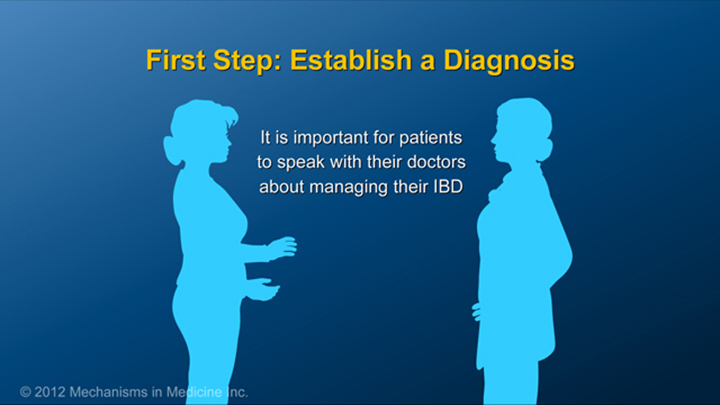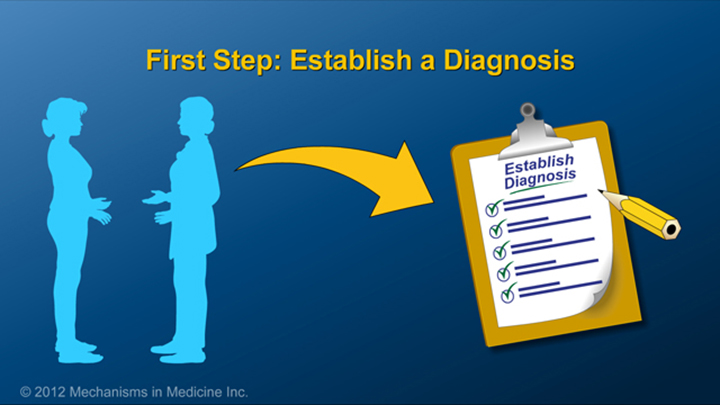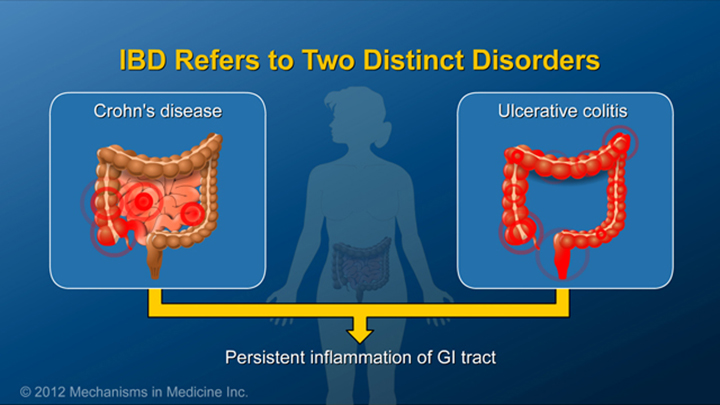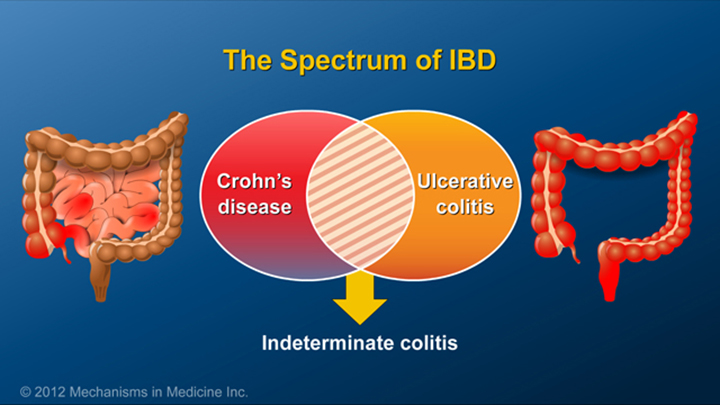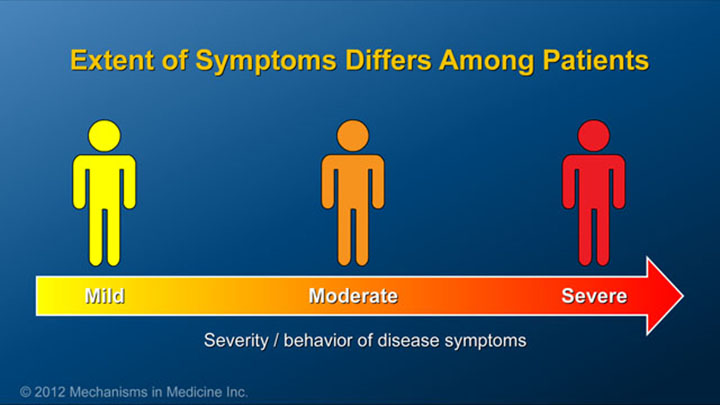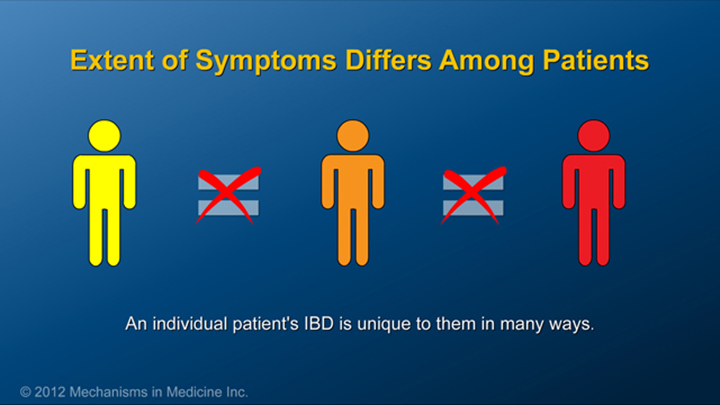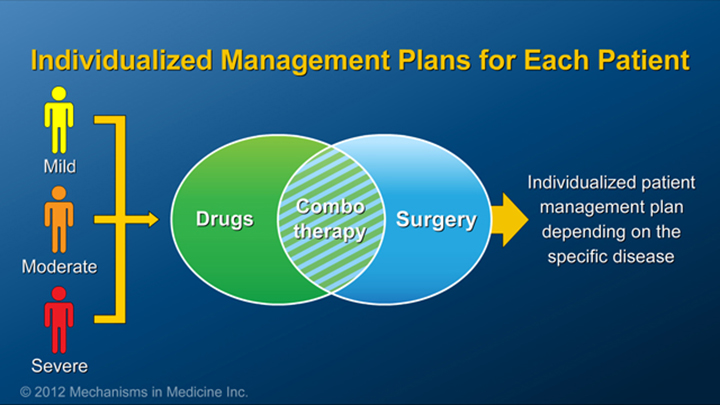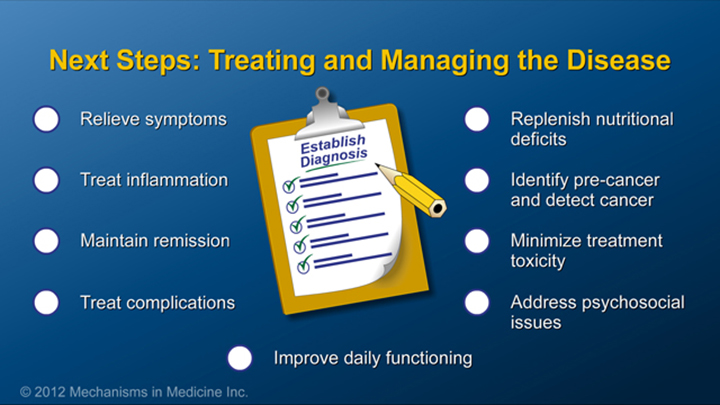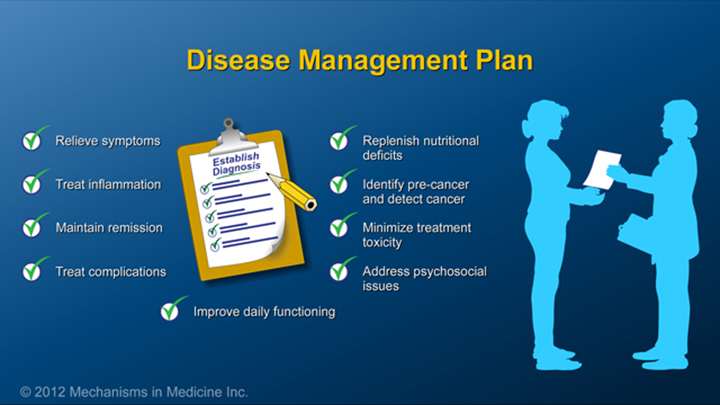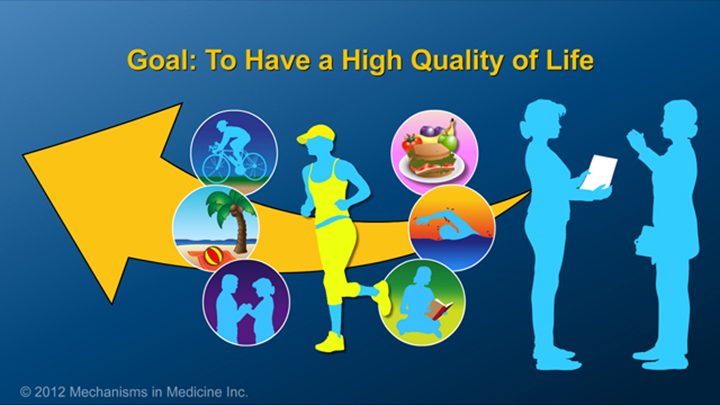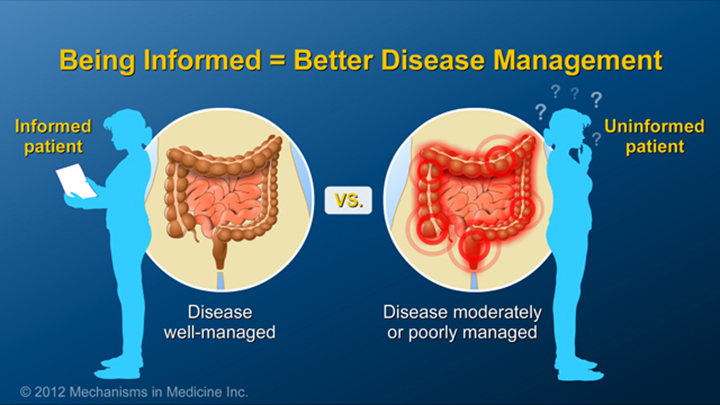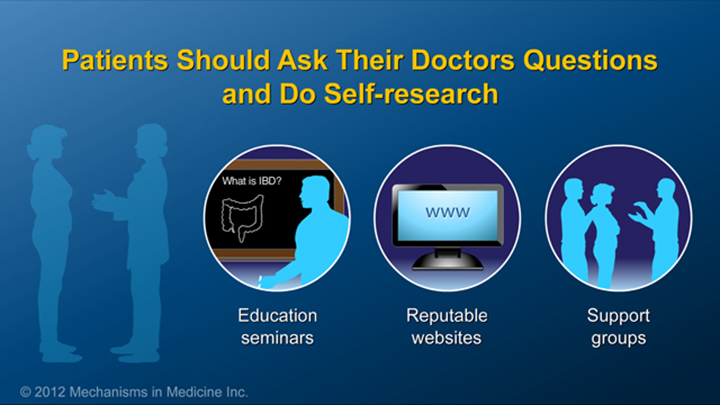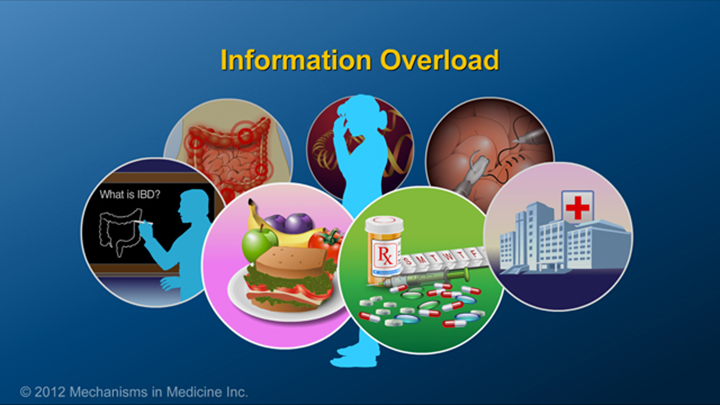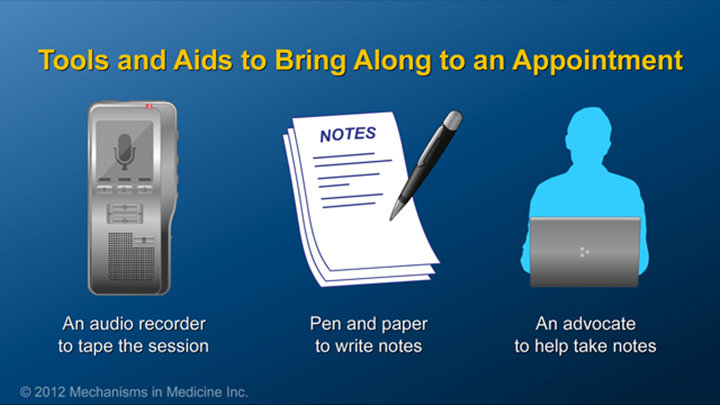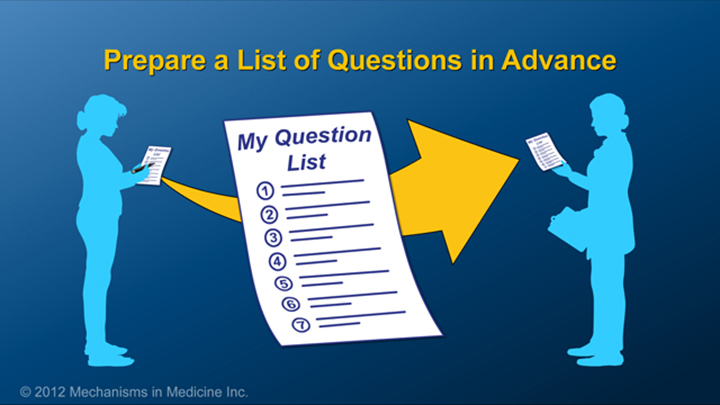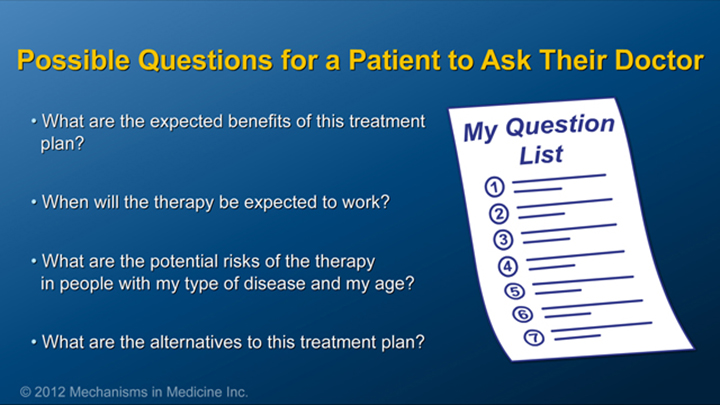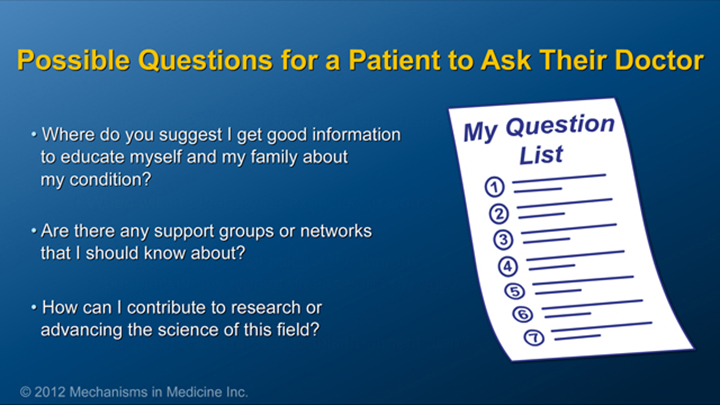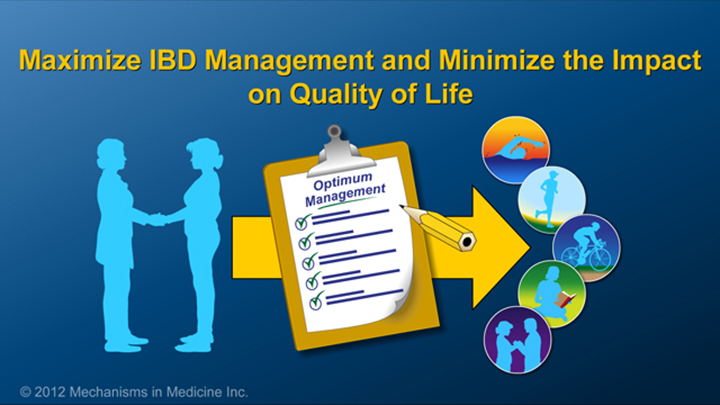 *Please note: This slide show represents a visual interpretation and is not intended to provide, nor substitute as, medical and/or clinical advice.
It is important for a patient to discuss the management of their inflammatory bowel disease (IBD) with their doctor. The first step in managing IBD is establishing an accurate diagnosis.
This includes understanding what type of inflammatory bowel disease is present, which parts of the bowel are involved, and how active the inflammation is at the time of diagnosis. Additional features such as the involvement of any other organs and family history help to clarify the diagnosis.
IBD collectively refers to two distinct disorders – Crohn's disease and ulcerative colitis (or UC) – that cause inflammation of the gastrointestinal, or GI, tract.
As more is learned about the genetics of Crohn's disease and UC, it is becoming evident that there are many types of IBD, rather than just the two major classifications of Crohn's disease and UC.
These different subtypes all vary in the extent, the severity, and the behavior of the disease. The sheer number of IBD subtypes can explain why some patients have more aggressive disease symptoms, while the disease is milder for others.
It is important to know that an individual patient's IBD is unique to them in many ways, so reading about the general features of Crohn's disease or ulcerative colitis may not apply to you.
Therefore, it is important for doctors and patients to individualize each patient's management plan for their specific disease.
There are many aspects to address when developing a management plan for patients with IBD. While the first step is establishing an accurate diagnosis, the subsequent steps focus on treating and managing the disease.
Ultimately, the emphasis of IBD management should be to first bring the disease into remission which is defined as the absence of symptoms from inflammation. Secondly, to maintain remission (prevent flares), deal with the variety of emotional, psychological, and medical issues that may arise, and encourage the patient to be involved in their disease management plan.
The goal is for patients with IBD to have a high quality of life. You should accept nothing less and talk to your doctor about how to best achieve this goal.
Patients should take an active role in the management of their disease. Patients who are informed about their IBD and what treatment options are available can often manage their disease better than patients who are not.
Patients should ask their doctor any questions that they may have and research their disease on reliable websites. Education seminars, reputable websites, and support groups are also good options for learning about IBD and how it can be managed. There are also experts who specialize just in IBD and can be seen for additional opinions or help.
Patients often report that they are overwhelmed by the information provided during an appointment to discuss their IBD or that they do not remember all of the details.
Therefore, it may be useful for the patient to tape-record or take notes during the appointment. Another option is to have an advocate present at the appointment to take notes.
Patients may find that preparing a list of questions in advance to ask their doctor during an appointment may be helpful.
Some questions that a patient may want to ask their doctor regarding the management of their IBD are:
What are the expected benefits of this treatment plan?
When will the therapy be expected to work?
What are the potential risks of the therapy in people with my type of disease and my age?
What are the alternatives to this treatment plan?
Where do you suggest I get good information to educate myself and my family about my condition?
Are there any support groups or networks that I should know about?
How can I contribute to research or advancing the science of this field?
Ultimately, it is important for the patient and doctor to jointly agree on the best way to manage the disease, as well as how to minimize its impact on the patient's daily life.
Slide Show - What Are the Goals of IBD Management?
This slide show describes the goals of inflammatory bowel disease (IBD) management and how patients can take an active role in managing their disease.
Click here to take our SURVEY
Your feedback is important to us! We will use your feedback to develop future areas of content about IBD which will help other patients, caregivers and families.
Please rate this content: